Kevin Harvick and the No. 29 Budweiser Chevrolet SS team scored a 10th-place finish in Sunday's Quaker State 400 at Kentucky Speedway.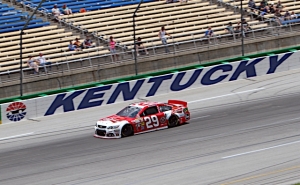 After being rained out Saturday evening, the NASCAR Sprint Cup engines fired back to life on Sunday with Kevin Harvick and No. 29 Budweiser Chevrolet team rolling off the grid 22nd at Kentucky Speedway. NASCAR mandated a competition caution at lap 30 to allow teams to check tire wear and address handling issues because rain washed rubber off the track following Saturday's heavy storms. Harvick started the first run by quickly picking off several spots, moving up to 17th place in just the first five laps. With the competition yellow out on lap 30, crew chief Gil Martin dialed up a few quick adjustments to fix the tight handling No. 29 car and opted to only take two two tires for track position on the first stop of the day. The strategy paid off with some ensuing caution laps pushing the team up to 11th place on lap 38. On the next restart, Harvick was able to squeak by a big wreck that put the field under a red flag condition. After making it to fifth by lap 60, the car began to develop a loose condition that would ultimately play a factor for the rest of the race. The following green flag stop saw a slew of cars get caught by an ill-timed caution, which included Harvick and the Budweiser Chevrolet SS. The team rallied back to the lead lap with a few fortunate cautions going their way. Through laps 214 to 243, Harvick maintained a tough battle for a top-10 spot with the No. 5 and No. 24 cars, until the yellow came out again and put the spotlight back on Gil and the crew for one final strategy call to take the team to the end. Right side tires and fuel with a small air pressure adjustment sorted the No. 29 Chevy back to ninth when the field took the green on lap 246. When the dust settled, Harvick brought home a 10th place finish and maintained his fourth place slot in the NASCAR Sprint Cup Series championship points Race to the Chase.

KEVIN HARVICK QUOTE: "We were loose in and fairly free through the corners for most of the day. Kentucky Speedway is a great place to race, but gave us all we could handle on getting our Budweiser Chevrolet to grip the turns.